Minature Oil-Free DC Piston Compressor
Featured Product from KNF Neuberger, Inc.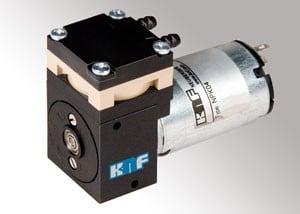 KNF announces its newest addition to its OEM swing-piston pump line, the NPK04. The NPK04 is ideal for use as a transfer pump, is available in compressor or vacuum optimized models and can be operated in any position. Its sealed, swing piston moves media oil-free and without adding contamination. Despite its size, it features 3.3 liters per minute of free flow, and is available in an optimized version for vacuum (max. 21.6 in. Hg) or pressure (max 31 psig) generation. Other models to 80 LPM (2.75 CFM)
Two motor options include standard DC or an economical brushless-dc motor. The BLDC model is only 2.5 in. long, with available remote logic speed control interface and features low EMI/RFI.
The pump is maintenance-free, very quiet, and exhibits low vibration, low current and power consumption, making it ideal for mobile, battery-powered applications.
All standard KNF pumps can be customized to meet specific OEM performance requirements. It is suitable for use in medical and analytical instruments, ink-jet printers, and pneumatic supply functions such as ergonomic furniture.