NMS010 Micro Diaphragm Gas-Sampling Pump
Product Announcement from KNF Neuberger, Inc.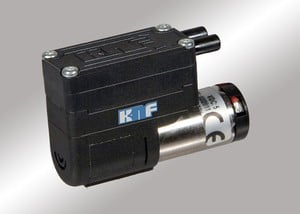 The new KNF NMS010 micro diaphragm pump introduces an efficient and reliable solution to transfer, evacuate, or compress gases for portable monitors, medical, and other gas-sampling instrument applications requiring high performance in a small package. This dimensionally compact pump measures 13.2mm (width) x 26mm (height) x 39mm (length), weighs 20g, and can deliver flow rates up to 0.75 l/min, vacuum up to 12 In Hg and pressure up to 7.5 psig.
The pump uniquely benefits from a newly designed oval-shaped diaphragm that utilizes the space over the motor to increase the size of the pumping chamber. This leads to a higher flow rate than a comparably sized round diaphragm, yet it takes up the same envelope size as a round diaphragm. High levels of gas tightness are possible due to a closed diaphragm surface and efficient sealing system. Oil-less operation enables uncontaminated flow of the pumped medium and contributes to safe and virtually no-maintenance pump operation. A newly engineered valve system promotes low aerodynamic loss and the pump exhibits minimal noise over a long service life. Users can select from a variety of cost-effective and robust DC motors to deliver the power.
This micro pump is supplied ready for installation and can be mounted in any position. It is intended to be customized to meet particular OEM requirements using a wide range of available materials, performances, test conditions, and value-added options.
---