Pumps for Use with Saturated Vapors
Product Announcement from KNF Neuberger, Inc.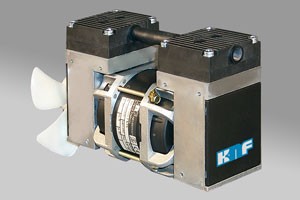 KNF's N816 and N836 pump series are specifically designed to satisfy the requirements of steam sterilization and vacuum drying such as autoclaves. The pump heads are made of PPS, and condensate-repellant surfaces and optimized flow paths. This feature facilitates condensate removal and fast drying. Shown at left is model N816.3. Also available are models N816.6, N836, and N836.3, for deeper vacuum and/or more flow.
Designed to satisfy the international directive for small steam sterilizers, which imposes stringent requirements for the first-stage sterilization, and post-drying stages.
---