Small, Efficient Pump for Portable Devices
Featured Product from KNF Neuberger, Inc.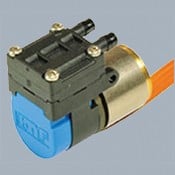 Introducing new KNF NMP 03 micro gas pump – measuring just 24.2 mm in length (with brushless DC motor). Starting at 11g, NMP 03 provides consistent, linear transfer from a few milliLiters to 500 mL/min. Coupled with outstanding efficiency, the quiet and exceptionally low vibration NMP 03 is ideally suited for portable and battery-operated devices for industries such as industrial hygiene, medical device, security, printing, and laboratory equipment. Choose from five standard motors to balance controllability, lifetime, and cost. Modifications are welcome and encouraged, including alternative materials and configurations, through our project pump process and engineer-to-engineer consultation.