Smooth Flow, Compact Pumps
Featured Product from KNF Neuberger, Inc.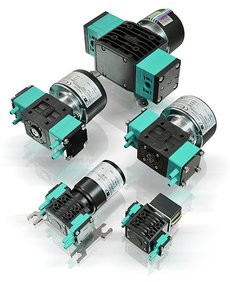 This line of compact KNF diaphragm liquid pumps features two pump heads driven by one motor. The alternating pump head operation results in smooth, level flow – important for systems sensitive to pulsation. In individual mode, two different liquids can be transferred simultaneously, eliminating the need for a second pump. Both modes offer cost-savings potential. These pumps deliver speed-adjustable flow rates from 5 mL/min – 1.3 L/min per head. Configure to your specs with engineer-to-engineer consultation.
Driven by an adjustable speed brushless DC motor, flow rates can be regulated and matched to the parameters in the customer's system. Optimize a KNF boxer-type pump to your OEM performance needs, with spec-driven configurations, materials, and motors available through our engineer-to-engineer project pump process.