KROHNE IFC 100 Magnetic Flowmeter Converter
Product Announcement from KROHNE Messtechnik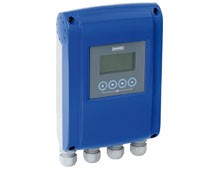 KROHNE, Inc., a global technology leader in the development, manufacture and distribution of accurate, reliable and cost effective measurement instrumentation for the process industries, introduces its new IFC100 signal converter. It is a unique economic solution designed for outstanding performance for applications in the water, wastewater, food and beverage and chemical industries. The IFC100 is suitable for use with KROHNE's complete range of OPTIFLUX series of electromagnetic flowmeters,
Featuring a signal converter that delivers extreme accuracy in even the most stringent industrial process applications, the IFC 100's technology compares very favorably with that of its predecessor, the IFC 300, by combining built-in advanced diagnostic capabilites with exceptional value.
The IFC 100 offers precise diagnostics of product, application and instrumentation. For example, the IFC 100 is able to measure electrode resistance and electrode noise for the volumetric indication of gas bubbles, solid particles and chemical resistance. Coil resistance is monitored to assess magnetic field quality and flowmeter temperature.
For maximum installation flexibility, the IFC 100 is available with the converter mounted directly on the flow tube as a compact meter in two versions: For horizontal installations a new 45º angled display is designed for optimal viewing, while vertical pipe installations may be installed a flat mounted version . Alternatively, a wall or pipe mounted converter can be mounted separately from the flow tube.
Each version of the IFC 100 features a rugged metal enclosure, a large backlit display for excellent readability and a push-button soft-keypad for ease of operation, start-up and configuration. Each version can also easily be rotated in 90º increments, to suit a variety of applications and orientations. As with all KROHNE products, the IFC100 is HART Compatible and ships with Pactware at no extra cost. The IFC100 also comes with multiple user-languages and is maintenance-free.
---