Submersbile Mixer - Amamix
Product Announcement from KSB AG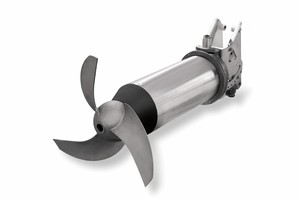 The Amamix propeller hydraulics has been optimized to achieve maximum efficiencies and excellent running properties when handling higher viscosity media.
The redesigned propellers ensure efficient thrust generation in the tank and thus reduce the operator´s energy cost. Available with nominal diameters from 200 to 600 mm, the stainless steel propellers have two or three blades - depending on the power input - and "throw off" off fibrous, stringy substances entrained by the flow. This prevents the mixer from clogging up.

The main application fields for the new mixers are in munici­pal and industrial water treatment plants as well in biogas installations.

A dynamic sealing system consisting of two mechanical seals (SIC/SIC) and a lip seal makes for the high operating reliability of the mixer and allows it to be run for up to 16,000 hours without oil change.

With power ratings ranging from 1.25 to 10 kW, the power output can be optimally matched to the application. The four to twelve-pole submersible motors are available with stainless steel housings or housings made from lined cast iron. These ensure very good heat dissipation and offer permanent protection against corrosion and abrasion.

Special attention has been given to the design of the plug-in cable entry, which is a critical point in all machinery operat­ing submerged. Individually stripped, tinned and resin-sealed conductors make the cable entry absolutely watertight, offering multiple protection even in the event of damage to the cable sheath and insulation.
---