KUKA Magnetarc Welders
Product Announcement from KUKA Systems North America LLC.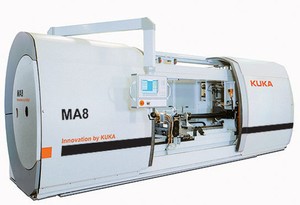 Machine-Features:
Precision from the word go
Calibration markings integrated as standard and calibration logs ensure that every KUKA Magnetarc machine works with the maximum precision recorded at the factory. A quality certificate documents the precision of every machine.
Slide guideway
Preloaded play-free rolling-contact bearings in the slide guideway ensure maximum stiffness and precision. This results in significant advantages with regard to maintenance, with extremely long servicing intervals.
Adjusting plate
An adjusting plate is provided for precision set-up and correction of the clamping equipment. This allows fixture and component tolerances to be compensated for quickly and easily.
HNC hydraulic system
Every KUKA Magnetarc machine is equipped with a NC-controlled hydraulic system for all process-related parameters, such as slide travel and forge pressure. The benefits can be seen in terms of operation, availability and diagnosis.
High-tech coils and precision clamping equipment
Workpieces need not be inserted through the opening in the magnetic coil, as the split coil allows time-saving loading and unloading from above. Precision clamping equipment with component- specific exchangeable inserts makes it possible to retool fast for different component diameters. The coil itself is not subjected to any wear, since the magnetic field is aligned so that welding takes place in front of the coil. The process generates little spatter, and the welding gas supply ensures that the process area remains virtually particle-free. This not only contributes to a stable process, it also minimizes the maintenance cycles.
Safety
Maximum user safety is an integral part of the machine concept.
Noise protection / Energy saving
The new machines are extremely quiet. In most cases, the hydraulic system is completely integrated into the sound-proofed housing. And it goes without saying that all current noise protection regulations are complied with. All electrical components of the machines have been evaluated and chosen for their energy efficiency.
---