Cable & Hose Carrier System, RoboTrax
Product Announcement from Kabelschlepp America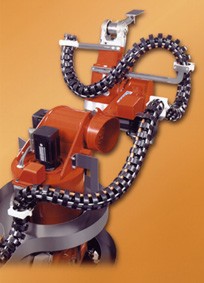 ROBOTRAX 3D CABLE AND HOSE CARRIER SYSTEM
Cable carrier chain for swivel arm robots is available in two new sizes


KABELSCHLEPP AMERICA, Milwaukee, specialist in guidance and protection of moving cables and hoses, now offers the unique ROBOTRAX cable carrier system in two new sizes: type R 085 having an outside diameter of 85 mm and a bend radius of 175 mm and type R 100 with 100 mm diameter and 195 mm bend radius. Both new types are suitable for cable diameters of max. 20 resp. 27 mm.
ROBOTRAX was specially developed for cable carriers used on swivel arm robots and other twisting, rotating and non-linear movement applications. It's simple push through cable installation offers a very simple and time saving assembly. The single circular links are clipped into each other in a fashion that somewhat resembles a human spinal column. ROBOTRAX is further reinforced to with a steel rope core to absorb and cushion the effects of extreme forces encountered during high acceleration common with swiveling arm robots. The cables are secured into one of three chambers. Due to the open link design of ROBOTRAX, a visual inspection of the cables for possible damage or wear can be easily performed at any time. Thus, individual cables can be easily swapped out before any damage or machine breakdown happens. Using the connecting elements specially developed for ROBOTRAX, the carrier chain can be fixed to the robot at any point of the chain. For maintenance work, the connecting elements can be opened without use of special tools by simply removing a pin.

ROBOTRAX is suitable for swiveling and turning movements. Therefore all cable carrier tasks on a swivel arm robot can be fulfilled by one system. For the guidance of the chain, two different channel systems are available. For rotation of up to 700 degrees, there is variant A with linear run, whereas variant B in a cone arrangement is suitable for rotation of up to 360 degrees. However, the use of guide channels is not required in many applications.
---