Alternative Steam Heater to Sparge Pipes
Product Announcement from KADANT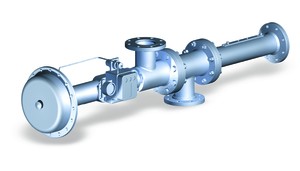 Conventional storage tanks with sparge pipes (simple pipes with drilled steam distribution holes) tend to have uneven water temperature control, steam hammer, heavy vibration caused by collapsing steam bubbles, and low efficiency. The steam temperature control valve also 'hunts' when approaching the water temperature set point due to the reduced steam pressure.
A direct steam injection heater instead can rapidly and accurately heat liquids by injecting steam directly into the fluid inside a mixing chamber. The direct injection heater provides two options to the above problem:
1. Replace the sparge pipe with a direct injection heater. The water in the storage tank is circulated through the direct injection heater to maintain the desired temperature set point for the water in the tank
2. Replace both the sparge pipe and the storage tank and use the direct steam injection heater to provide hot water on demand.
A direct steam injection heater eliminates both the storage tank and the sparge pipe; controls the water temperature within +/- 1° F; eliminates steam hammer, thermal noise and vibration; and reduces the amount of steam required to heat the water by 30%. A direct steam injection heater requires minimal space in contrast to the storage tank/sparge pipe arrangement.
View our video about direct steam injection heaters to learn more.

Play Alternative Steam Heater to Sparge Pipes Video
---