Energy-Saving Hybritec Combination Air Dryer
Product Announcement from Kaeser Compressors, Inc.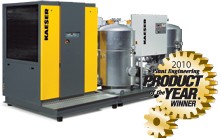 Introducing Kaeser's new Hybritec combination dryer series! Voted a 2010 Product of the Year by Plant Engineering readers, this innovative compressed air drying solution combines the energy savings of a refrigerated dryer with the exceptionally low dew points a desiccant dryer.
Hybritec units operate on a ground-breaking premise: air is first treated by a refrigerated dryer to remove the majority of the air's water vapor. Then the air is treated by a desiccant dryer to further reduce the dewpoint. Finally, the air is returned to the refrigerated dryer to be reheated and delivered to the air system.
The advantages of these hybrid dryers over other dryer types include: a consistent outlet dew point, reduced operating and maintenance costs, less power consumption, and longer desiccant service life. Plus, with flows from 706 to 5295 scfm, Hybritec dryers produce both refrigerated dew points of +38°and desiccant dew points of -40°F.
To download your free copy of our Hybritec whitepaper, visit www.kaeser.com/combodryers. To be connected to your local representative for additional information, please call 877-586-2691.
---