Industrial Rotary Screw Air Compressors
Product Announcement from Kaeser Compressors, Inc.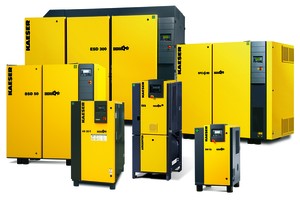 At Kaeser, we pride ourselves on being the leading innovator in efficient compressed air system technology. With a Kaeser air system, you get products that have proven their reliability and efficiency over and over in demanding industrial applications.

Kaeser Compressors' rotary screw air compressors are available in a wide range of sizes and feature the highly efficient, proprietary Sigma Profile™ airend. Our airends are precision machined and optimized in size and profile to match the airend speeds with their best specific performance. Unlike the competition, Kaeser makes many different airends so that we can apply them at their optimal speed and performance. In every machine Kaeser builds, you'll find many features to enhance reliability and simplify maintenance, from the heavy gauge steel frame with double vibration isolation to the quick fluid change feature. TEFC motors are standard in each unit and we use stainless steel pipe instead of lower cost tubing. Our built-for-a-lifetime™ air compressors have a well-planned cabinet design and component layout to reduce noise and footprint and provide easier access during preventive maintenance. Available from 3 to 700 hp with capacities from 8.8 to 3069 cfm, and pressures up to 217 psig. All units are fully packaged and ready for hook-up. Our Sigma Frequency Control variable frequency drive and our "T" versions with integral dryers are also available on most models.

In the field, Kaeser specializes in individually evaluating each customer's compressed air application, and providing the most efficient and effective air system solution. Prompt and dependable customer service, quality assurance, training, and engineering support contribute to the value customers have come to expect from us. Our employees are committed to implementing and maintaining the highest standards of quality to merit customer satisfaction. We aim for excellence in everything we do.

Our engineers continue to refine manufacturing techniques and take full advantage of the newest machining innovations. Extensive commitment to research and development keeps our products on the leading edge of technology to benefit our customers. Our industry-leading controls continue to set the standard for efficient system operation. With over 90 years of experience, Kaeser is the air systems specialist.
---