M59PE MOBILAIR® Compressor
Featured Product from Kaeser Compressors, Inc.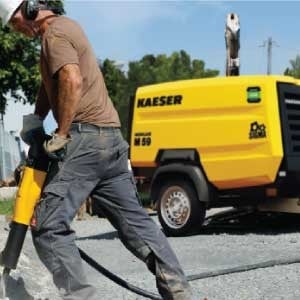 Our Sigma Profile airend combined with the reliable Hatz Tier 4 Final diesel engine delivers superior fuel economy and reliability. Add in our 21 gal fuel tank and the M59PE is ready for a fuel shift - up to 8 continuous hours without refueling. This flexible unit is designed for heavy-duty civil and commercial construction, demolition, sand blasting, and other site work applications as well as portable backup for stationary units.
The M59PE features a high efficiency cooling system for operations in high heat conditions. The high capacity cold-start battery ensures starts in cold weather, and our anti-frost valve maintains optimal air temperature to prevent tool freeze up.
The on-board controller, Sigma Control® Smart, ensures reliable and efficient operations with touch button control. Pressure adjustments are simple. Maintenance reminders and the operating/service history alerts alerts your service team to any required service.
For more information, visit https://us.kaeser.com/landingpages/ads/mobilair-59.aspx For more information or to be connected with your local authorized Kaeser representative, please call (877) 417-3527.