Mobilair™ M27 Portable Compressor
Product Announcement from Kaeser Compressors, Inc.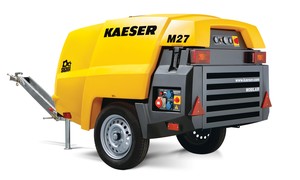 Powerful. Reliable. Easy to maneuver. Exceptionally efficient. These are just some of the key advantages of Kaeser's new Mobilair™ M27 portable compressor.
Engineered and manufactured in Germany, this addition to the Mobilair line provides 92 cfm at 100 psig. The M27 - like all Mobilair models - features a larger, slower turning airend to produce 15-20% more air per gallon of fuel than the competition. Its 3-cylinder 21 hp Kubota diesel engine complies with Tier 4 emissions standards. The M27's rotomolded polymer canopy is scratch and dent resistant, and its heavy duty chassis offers further protection from the elements and corrosion. Come winter, the model's exclusive anti-frost valve maintains optimum operating temperature. The model features a convenient tool box for storage, and is available as a skid-mounted utility model for cross mounting on service vehicles.
---