New! Compressed Air Engineering Handbook
Featured Product from Kaeser Compressors, Inc.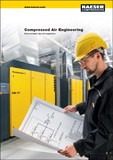 Kaeser's new Compressed Air Engineering Handbook: Basic Principles, Tips and Suggestions is a system design engineering guide covering the fundamentals of compressed air technology and highlights ways to improve efficiency in a compressed air system. Topics include: fundamentals of compressed air production, air treatment, efficient controls, optimizing performance to meet actual demand, heat recovery, compressed air audits, piping, ventilation, and much more.