Redesigned DSD 125 - 175 Screw Compressors
Featured Product from Kaeser Compressors, Inc.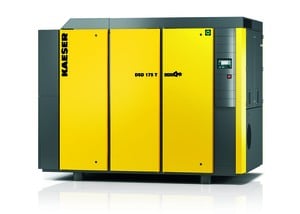 Kaeser has redesigned their DSD 125 - 175 rotary screw compressors. With flows from 595 to 882 at 125 psig, these models are up to 25% more efficient than the competition.
The DSD models deliver lower life cycle costs with their simple maintenance and reduced energy costs. Additionally, built-in heat recovery options multiply energy savings potential.

"T" models include an optional integrated dryer. The new compact design delivers consistent air quality without sacrificing floor space.

Series features include an enhanced cooling design, eco-friendly filter element, integral moisture separator with drain, and an Electronic Thermal Management system. Units also come standard with Sigma Control 2™. This intelligent controller offers unsurpassed compressor control and monitoring with enhanced communications capabilities for seamless integration into plant control/monitoring systems and the Industrial Internet of Things (IIOT).

To learn more about these models or to be connected to your local representative for additional information, please call 877-586-2691.