Redesigned ESD Rotary Screw Compressors
Featured Product from Kaeser Compressors, Inc.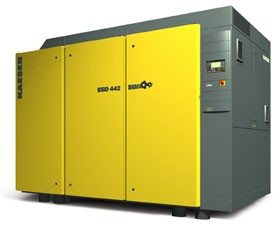 Increased Efficiency, Improved Specific Performance
Introducing Kaeser's redesigned ESD rotary screw compressor series! Available in 250 and 300 hp models, ESD units provide flows from 816-1522 cfm and pressures to 217 psig. Included are new IE4 motors and an energy efficiency advantage if up to 30% over the competition.
The ESD series was redesigned for increased efficiency and improved specific performance, as the one-to-one direct drive design includes a premium efficiency drive motor with three PT 100 temperature sensors. All models come standard with the new Sigma Control 2 intelligent compressor control for enhanced communications capabilities and equipment protection. Also standard is a variable speed fan for the fluid cooler that helps save energy by adjusting to cooling demands. Maintenance points are more easily accessible than ever before with five access doors and a removable panel.
Options include water-cooled and SFC variable frequency drive. ESD units with optional SFC are now 19 inches shorter than the previous design, with a footprint reduced by an impressive nine square feet!