Variable Speed Rotary Screw Compressors
Featured Product from Kaeser Compressors, Inc.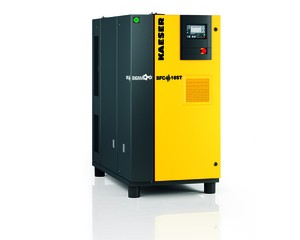 Kaeser Compressors' SFC 18S and SFC 22S variable speed drive rotary screw compressors deliver the "built-for-a-lifetime" reliability, simple maintenance, and sustainable energy savings you expect from the Kaeser name.
The SFC 18S has a flow range of 33-119 cfm at 125 psig and is available with pressures up to 217 psig. The SFC 22S has a flow range of 33-141 cfm at 125 psig, with pressures up to 217 psig. Both models feature the latest in Siemens drive technology.
These units feature an airend specifically designed to optimize performance and efficiency. They also come standard with TEFC premium efficiency motors. These energy efficiency improvements result in a performance advantage over the competition as high as 20%. The enhanced cooling design ensures the overall package is ready for severe operating conditions.
The units' compact design and two large hinged service doors make it possible to service the unit from one side for easy maintenance accessibility. The automatic belt tensioning device prolongs belt life and simplifies service, while maintaining optimal drive efficiency. The SFC 18S and 22S are also available with an integrated dryer for premium compressed air quality.
Visit www.us.kaeser.com/sfc to learn more about the SFC 18S and SFC 22S or to be connected to your local representative, please call 877-586-2691.