Build-to-print electro-mechanical assembly
Featured Product from Kaman Precision Products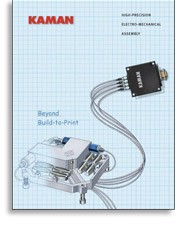 High precision electro-mechanical assembly is also one of Kaman's core
competencies. Many of our OEM customers use our products in larger
assemblies. They benefit from allowing us to build the higher
level assembly, because our product is then part of in-situ calibration,
the optimum solution for high performance and high reliability.
We have a team of experienced engineers, materials managers and
operations managers that will review your RFQ/RFP, generate the
proposal, and stick with the program through first article acceptance,
into production. Contact a Regional Sales Manager to set up a meeting
at your facility.