Kardex Remstar Shuttle XP Vertical Lift Module
Product Announcement from Kardex Remstar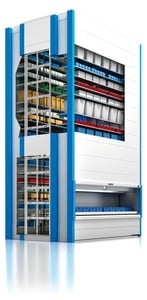 Vertical Lift Module For High Speed Picking

The Shuttle XP VLM is a fully automated vertical storage system with a modular design, that operates on the "goods to person" principle. Taking up a minimum footprint, it makes maximum use of the height of the warehouse. Every Shuttle XP VLM can be employed as a standalone system or integrated into a linked system.

The Shuttle XP is a dynamic vertical lift system offering almost unrestricted flexibility. The Shuttle XP 1000 has extended the product line to include heavy duty loads, holding up to 2,204.6 lbs per tray.
When installed through several floors, access openings can be integrated at any point on the front or rear of the unit. They can even be changed at a later date.
Benefits At A Glance
Increase Picking Speed: Optimized picking sequences minimize machine travel times and increase picking speed.

Space Savings: One inch tray storage using CubeStar Technology reclaims up to 85% of otherwise wasted floor space compared to conventional storage products.

Time Savings: Stored goods are automatically presented to the operator, eliminating walk and search time and increasing productivity up to 2/3.

Worker Safety: An OSHA friendly design eliminates the need for bending, reaching, stretching and climbing; providing a safer work environment.

Product Security: Shutter doors at every access opening keep stored goods physically secured. With optional software, transactions can be tracked and reported by user.
Higher Pick Accuracy: Integrating pick to light technology, bar code scanning and software increase accuracy up to 99.9%.
Flexibility: The ability to program each individual tray - slower speeds for sensitive goods, dedicated storage locations for faster moving goods, variable weight capacity, restrict user access to specific trays - provides storage flexibility.
---