Cannabis Sorter
Featured Product from Kason Corporation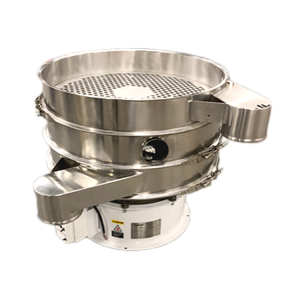 Cannabis Sorter
Gentle, Consistent Separation
Kason's VIBROSCREEN family of products now includes a Two-Deck High-Efficiency Circular Vibratory Separator designed to optimize cannabis and hemp cultivation and harvesting processes. The state-of-the-art sanitary design efficiently screens and separates cannabis buds into different fractions for pre-roll and extraction preparation. Gentle vibratory screening protects the integrity of cannabis flower materials. Multi-deck vibratory screeners are ideal for sorting trimmings, increasing production rates and eliminating tedious manual labor.
The fully customizable system is designed to application specific standards ensuring that all additive manufacturing processing requirements are met.
Key Benefits
Gentle Vibratory Sorting of Cannabis Buds
Cannabis Flower Processing Precision and Efficiency
Compact Designs to Fit through Standard Doorways
Handles Wet or Dry Product
Minimizes Labor Costs
Easy Installation, Operation and Cleaning
Quick Screen Changes
Features and Capabilities
Custom Designs and Standard Models Available to Suit Application
Quick-Clean Design with Sanitary Finishes
Available Designs to Meet 3-A, FDA, BISCC and Other Safety & Sanitary Standards
Stationary and Mobile System Options
Compact Design for Low Headroom and Floor Space
Separating and sorting system ideal for:

pre-roll material
trimmed flower
THC & CBD wet extraction material
THC & CBD dry extraction material
ice hash separation
stalk and stem separation
Follow us on:
About Kason Corporation
Leading the Way in Industrial Screening and Processing Equipment
Kason's worldwide compliance with the most stringent safety, quality and sanitary standards and regulations, as well as our nearly 50 years of innovative design and vast process experience makes Kason the leader in the manufacturing of screening and processing equipment. Whether your application is simple or complex, low or high capacity, sanitary or industrial, you will find the specialized equipment and the application expertise you need for top performance at Kason.