Generators for Oil and Gas Applications:Trust Kato Engineering to Meet Your Needs
Featured Product from Kato Engineering, Inc.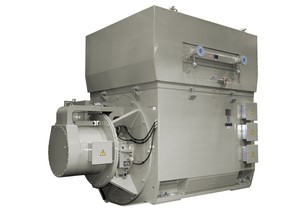 Oil & Gas expertise
Offshore installations including fixed platforms (wellheads, processes, living quarters, etc) and floating production platforms (FPSO/FRSU).
Onshore installations including wellheads, processes, refineries, as well as liquefaction and gasification terminals.
Transportation equipment such as compression stations for pipelines and LNG carriers for laying tubes and cables.
Our generators are among the most reliable in the world. That is why companies like ExxonMobil®, Shell®, Total®, BP®, Texaco® use our generators for some of their toughest jobs.
Product Features
Long life cycle / low maintenance:
Generator cores built to minimize core loss and heating.
Copper amortisseur windings to lessen damper cage heating caused by non-linear loads.
Mica turn-taped magnet wire in the stator form coils provides nearly twice the instantaneous surge withstand capacity, compared to glass-covered wire. Windings comply with industry standards, including IEEE 522 and IEC 35-15.
Opposite-drive end bracket insulator between the sleeve and bearing to avoid shaft currents flowing through the bearing which can damage the bearing surfaces.
Dependable, even under severe conditions:
Proven 24 / 7 operation.
Vacuum Pressure Impregnation (VPI) rotor and stator insulation systems provide better and more consistent protection in harsh environments over traditional dip and bake insulation methods.
Precisely layered insulating tape ensures maximum insulation properties and optimum fit in the form coil slot to reduce premature failure in severe conditions.
Global and custom design offerings:
Ability to design to any specifications.
Excitation systems support high load level variations with reduced voltage fluctuations.
Regulatory requirements and specifications
We design power generation systems that comply with all the international standards (ATEX, UL, ABS, NEC, CSA …) and meet/exceed industry standards for performance, reliability, maintainability and compactness.
On request, some specific approvals can be obtained.
Services
A global network of certified Service Centers can provide repairs and maintenance of products for the Oil &Gas industry. Everywhere in the world, there is a service center able to take care of your needs.