CIP (Clean in Place ) Clamp Gaskets
Featured Product from Kelco Industries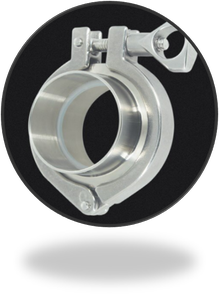 Western Consolidated Technologies (WCT), a division of Kelco Industries, is a market leader in the production of Engineered Plastic CIP (Clean In Place) gaskets for a variety of fluid handling applications. Our unique portfolio of materials and manufacturing processes allows us to supply a quality seal at a competitive price. We Net Mold seats to reduce material waste. Our seals are widely used is the Medical, Pharmaceutical, as well as the Food and Dairy industries. Depending on the customers needs we provide expertise in:
Heavily Stainless Steel Filled- Steam Applications
High Purity Material Formulations -FDA Compliance
High Grade Materials for Xray and Metal Detection
Markets which utilize WCT's Sanitary Clamp Gaskets include:
Dairy
Food and Beverage
Pharmaceutical
Chemical Processing
Biotech
These gaskets are also known as:
Tri-clamp Gaskets
Hygienic Seals
Sanitary Pipe Seals
Contact us at https://www.kelcoind.com/contact-us/request-a-quote/ to learn more.