Economical Alternative to Mass Flow Controllers
Featured Product from Kelly Pneumatics, Inc.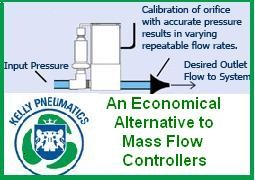 The linear performance of the pressure regulator can be converted to near linear flow rates. The incorporation of an adjustable precision flow orifice on the downstream side of the accurately controlled pressure results in highly repeatable, accurate performance characteristics.
The precision flow becomes a function of the controlled pressure and orifice size, thereby adjusting the orifice quickly creates varying flow rates.
This design is a cost effective alternative to mass flow controller systems.
To learn more about this application and see details CLICK HERE
Kelly Pnuematics' engineering expertise and comprehensive line of customizable pressure regulators means they can assist with your applications