Accurate Leak Testing with Pressure Regulators
Featured Product from Kelly Pneumatics, Inc.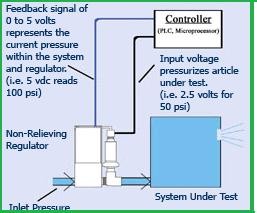 Accurate leakage testing is accomplished using a non-relieving pressure regulator.
First, the regulator pressurizes the article under test until the desired pressure is reached.
Next, the imput voltage to the regulator is set to zero volts; due to the non-relieving design, the regulator holds the desired pressure within the system.
Now, an accurate reading of the pressure within the system is sent as a voltage via the regulator's feedback signal. This feedback signal allows an immediate, accurate reading of the drop in pressure within the system since the time when the input voltage was set to zero.
Read more about this and many applications for Pressure Regulators and see the comprehensive line of both Low & High Flow Precision Electronic Pressure Regulators from Kelly Pneumatics