High-Resolution Pressure Chamber Control
Featured Product from Kelly Pneumatics, Inc.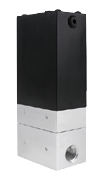 Kelly Pneumatics, Inc. introduces an Electronic Pressure Relief Valve for high flow applications. This valve offers high-resolution pressure chamber control for applications that require high-volume, relieving flow performance. Perfect for applications that need to sustain a consistent chamber pressure, this valve varies relief flow rates automatically, subject to dynamic increases in chamber pressure. Unlike traditional mechanical relief valves, the Electronic Relief Valve provides variable relief pressure based on a control signal.
FEATURES
High Volume Relieving Flow Rate
Electronic Performance Feedback
Quiet Operation
Excellent Resolution and Repeatability