High Flow Precision Pressure Regulator
Featured Product from Kelly Pneumatics, Inc.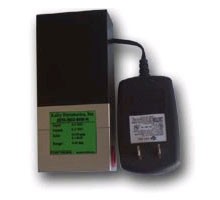 • Vacuum Pressure Control
• High Volume Outlet Flow Capability
• Electronic Performance Feedback
• Optional Digital Display Available
• Excellent Resolution and Repeatability
Kelly Pneumatics, Inc. offers a reduced cost, single-valve design, Electronic Precision Pressure Regulator with (PID) control circuitry. Designed specifically for high volume flow rates, this regulator precisely sustains both positive and negative outlet pressures, even during dynamic changes in outlet flow rates. By utilizing either an externally supplied dynamic/static input signal or an onboard adjustable set-point value, the High Flow Precision Regulator provides exceptional closed-loop, proportional, output pressure control characteristics.
Kelly Pneumatics, Inc.'s regulators offer significant improvements over traditional dual on/off valve electronic regulators. The award-winning design gives a smooth and accurate signal, as opposed to dual on/off valve designs that cause substantial shock waves in the regulated pressure signal. The KPI regulator can replace manual regulators, needle valves, and bleed valves or bleed orifice discreet component systems.