High Speed Proportional Valve
Featured Product from Kelly Pneumatics, Inc.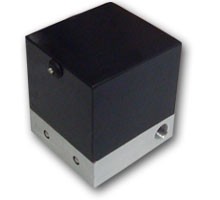 Kelly Pneumatics, Inc. offers the High Speed Proportional Valve, which offers virtually immediate response time of 2 milliseconds (full span). The High Speed Proportional Valve offers the fastest response time of our proportional valve product line, while still utilizing a single armature design ensuring virtually frictionless performance and longevity tested at over 100 million cycles.
An optional version also includes a built-in regulator for incoming pressure, which automatically adjusts a dynamic inlet pressure to maintain consistent outlet flow rates. Additionally, these high speed valves may include a built in amplifier board, which allows control via an analog input voltage.