Low Hysteresis Proportional Valve
Featured Product from Kelly Pneumatics, Inc.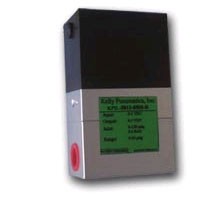 Lowest Hysteresis Performance
Parallel Valve Design
Onboard Voltage Amplifier Available
Controls Air, Water, and Other Mediums
Kelly Pneumatics, Inc. offers a reduced cost low-hysteresis proportional valve with high volume flow capabilities. The KPIL Series Valve offers the second-highest flow performance and lowest hysteresis of our proportional valve product line, while still utilizing award winning, single armature design ensuring virtually frictionless performance and longevity tested at over 100 million cycles. This valve differs from the High Flow Proportional Valve in that it uses a proportional valve and digital valve in parallel. This parallel valve design offers great response times and high flow rates without the increased cost of a large valve housing, making it a good option for those in need of high volume proportional flow at larger hysteresis levels. An optional version incorporating our Valve Driver Boardas an onboard device offers manual or electrical control with varying control voltages available. Utilizing a large range of Cv values and flow rates, the KPIL Series Valve can be efficiently used in many high flow applications to control varying mediums including air, fluids, and gases.