Mass Flow Controller for Critical Gases
Featured Product from Kelly Pneumatics, Inc.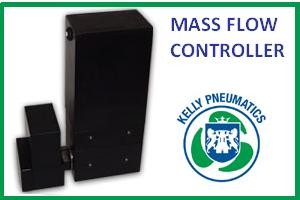 Precise volumetric flow control for a variety of mediums and critical gases. These units are proportional valve driven; using patented proportional valve technology that ensures virtually frictionless performance offers excellent resolution, repeatability, and extensive product life.
Virtually Frictionless Performance
Fast and accurate measurement
Electronic Performance Feedback
Optional Digital Display Available
Excellent Resolution and Repeatability
Vacuum Pressure Compatible
The Kelly Pneumatics Mass Flow Controller product line offers various models and product customization for optimal price savings. The product comes in two primary versions: one with backpressure compensation and one without; these two product versions can be further customized to include a digital display readout and a wall adapter for power supply, as well as open-loop or closed-looped control characteristics. An additional option for both linear or non-linear flow output is available for additional cost savings and product customization.
USE THIS LINK TO DEFINE YOUR SPECIFIC REQUIREMENTS AND BUILD YOUR CONTROLLER Or use the links on the left to visit our website or e mail your inquiries