NEW! Guarded Safety Light Curtain
Product Announcement from KEYENCE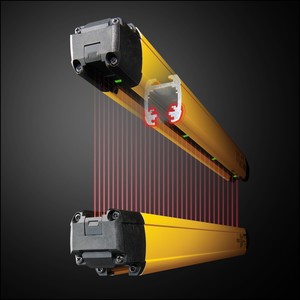 KEYENCE introduces the new GL-R Series to our safety light curtain lineup. The GL-R features a Strong, Simple, and Smart design that provides a rugged, yet versatile solution.
Strong: The GL-R Series is built from a 3 mm thick extruded aluminum body with a narrow, 9 mm wide recessed lens surface. This design completely guards the light curtain from impact damage often experienced when using conventional models, which reduces replacement costs and downtime. In addition, the housing is sealed to meet IP65 and IP67 ratings for use in harsh environments.
Simple: The GL-R Series features new wiring systems and brackets that save time and trouble by simplifying installation. Most notable are the one-line wiring system and quick fit brackets.
The new one-line wiring system allows the transmitter to be connected in series directly to the receiver for power and synchronization purposes. This simplifies wiring to a single cable, greatly reducing installation time and the potential for mis-wiring.
Pre-assembled, quick fit brackets have also been designed to simplify installation. These heavy duty brackets lock into the back channel of the GL-R housing by tightening two screws and can easily be attached to standard equipment framework without the need for any special protective hardware.
Smart: The GL-R Series also includes new "smart" features in addition to those that KEYENCE safety light curtains have already been known for, including edge to-edge detection, series connection, built-in muting and blanking, highly visible indicators, quick disconnect cable options, and monitoring software. These "smart" features combine to reduce required installation space and costs for additional components, as well as to reduce installation and troubleshooting time.
---