VW-9000 High-speed Camera + Digital Microscope
Product Announcement from KEYENCE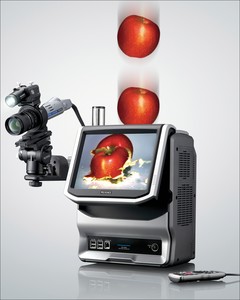 The KEYENCE VW-9000 High-speed Microscope is one of the most versatile tools available for any manufacturing or inspection application. This fully-integrated system incorporates a built-in light source, LED monitor, analysis software and PC components and can be used not only for standard high-speed applications, but doubles as a digital microscope for inspection and development work.
With a newly re-designed CMOS sensor, the VW-9000 is capable of recording high-speed processes at up to 230,000 frames per second and can capture video for up to 13 hours. Conventional high-speed camera systems require several pieces of external equipment during operation (external light sources, separate PC and monitor, etc.) and can take several hours to set up properly. Since the VW-9000 is an all-in-one system, all of the necessary components are built-in to the unit, and it can be set up and ready to operate in just a matter of minutes.
The controller supports both color and monochrome cameras making it ideal for any application. The advanced interface simplifies the setup procedure, making the unit ideal for novice users. High-speed recording is automatically played back in slow motion, allowing real-time adjustments during setup. A new Motion Graph function is able to graphically display changes in a target's movement, reducing the amount of time needed to search for events of interest within a video.
Recorded footage can be edited and analyzed directly on the controller. The VW-9000 automatically tracks moving objects in recorded footage to quantify speed, acceleration, distance, angle, and other measurements. An Error Monitoring function can also automatically analyze repetitive movements to determine when an abnormal event occurs.
The VW-9000's compact design contains the functionality to perform both macro and micro imaging. High-resolution KEYENCE Digital Microscope lenses can be used with the VW-9000 for greater magnification. Observation time can be significantly reduced with a large depth of field, ideal for targets with irregular surfaces. Lighting adapters and image optimization functions help eliminate the need for complex adjustments and allow low-contrast and highly-reflective targets to be viewed in high detail.
For VW-9000 High-speed Microscope specifications and applications, please go to: www.digitalmicroscope.com/PRVW9
---