D-Sub Connector Hardware and Panel Screws
Featured Product from Keystone Electronics Corp.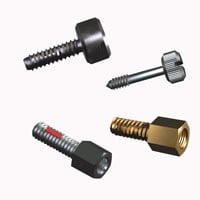 Keystone offers all sizes of Jack Screws for D Sub connectors, Thumb Screws, Captive Screws, Shoulder and Sems Screws and other electronic panel hardware products made of Stainless Steel per ASTM-A581/A582 as well as Steel with a variety of finishes.
Jack Screws - Ideal as mounting screws for "D" subminiature connectors. They are equivalent to AMP, CANNON & TRW Jack Screws.
Sems, Slotted and Turnable styles
They are available in lengths of .285 (7.24), .347 (8.81) and .660 (16.76)
Available in Stainless Steel and Steel with Clear or Yellow Chromate
Supplied in bulk and with mounting hardware
Captive Screws- For a variety of Panel Hardware Requirements
Manufactured in stainless steel per ASTM-A581/A582
Available in 4-40, 6-32, and 8-32 Threads
Available in Several Styles
Thumb Screws- For a variety of Panel Hardware Requirements
Easy-grasp, easy turn diamond knurled heads
Available in 4-40, 6-32, and 8-32 Threads
Available in Stainless Steel, Nickel plated brass and Nylon.
Standard and washer face configurations
Shoulder Screws – For a variety of Panel Hardware Requirements
Manufactured in stainless steel per ASTM-A581/A582
Available in 4-40, 6-32, and 8-32 Threads
Slotted head and Socket Head Styles
For complete details and specifications contact Keystone Electronics Corp., 55 South Denton Ave, New Hyde Park, NY 11040; Tel: (800) 221-5510 or (516) 328-7500; Fax: (516) 328-1080; E-mail: kec@keyelco.com or their webiste www.keyelco.com