Easy-Mount Kits for PC/104 & PC/104-Plus Modules
Product Announcement from Keystone Electronics Corp.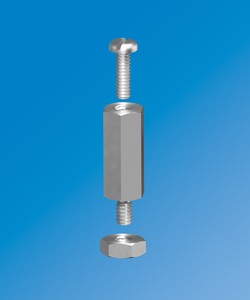 A new series of Hardware Mounting Kits for PC/104 and PC104-Plus Bus Drives ideal for limited space design/installation applications is among the latest developments from Keystone Electronics Corp. Engineered to ease assembly of new modules and multi-board stacks, the PC/104 and PC/104-Plus kits may be used with any of the more than one hundred different PC/104 modules available in the marketplace.
Each of Keystone's PC/104 hardware mounting kits includes all the hardware required to mount a single-board and is supplied with 4 each: #4-40 threaded spacers .600" length, #4-40 x 1/4 screws, and nuts. For kits with Brass components, request Catalog #8799-4; for kits with Aluminum components request Catalog #6799-4; for kits with Stainless Steel components request Catalog #5799-4; and for kits with Nylon components request Catalog #4799-4.
Keystone Electronics Corp. is a major manufacturer of interconnect components and hardware including a large and diverse offering of standoffs and spacers. To find the specific spacer or standoff you require, visit our part builder system. Keystone provides a full complement of stamping, machining and assembling services. An in-house application engineering group is on hand to aid in product modifications or customers special designs.
---