MicroUSB Interconnects Accelerate Data Transfer
Product Announcement from Keystone Electronics Corp.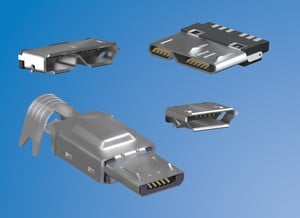 Designed for increased durability, the new USB 2.0 and USB 3.0 products can withstand greater than 10,000 mating cycles. Micro configurations provide the smallest PCB footprint of all USB interconnects, significantly reducing PCB real estate. In addition, a unique socket lead-in design enables blind-mating with the plug. Plugs and Sockets are manufactured with gold plated contacts for reliability and low contact resistance.
Cat. No. 940TR is a surface mountable Micro-USB 2.0 Type B socket. It is available on tape and reel to simplify pick and place installation. Insulating material is UL94V-0 rated. Cat. No. 955 is a thru-hole mountable Micro-USB, 3.0 Type B Socket that delivers data transfer speeds to 4.8Gbps. All USB 3.0 sockets are backward compatible with USB 2.0 plugs. They are ideal for use by numerous electronic devices such as digital cameras, mobile phones, flash drives and computer peripherals.
Keystone's Type B Micro-USB Plug kits, Cat. No. 941 for USB 2.0 applications and Cat. No. 957 for USB 3.0 applications, are well suited for creating custom cable assemblies. Kits supplied with an unassembled metal housing with strain relief. Both Plug and socket are available in stock from Keystone's global distribution network.
Keystone Electronics Corp. is a major manufacturer of interconnect components and hardware and provides a full complement of stamping, machining and assembly services. An in-house application engineering group is on hand to aid in product modifications or customers special designs.
Keystone is an ISO-9001:2008 certified company, RoHS compliant with headquarters
in the US and offices in Canada, Europe, Australia and Asia.
---