Modular Keystone RJ45 Jacks for PCBs & Panels
Featured Product from Keystone Electronics Corp.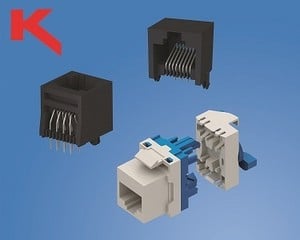 A new series of advanced 8P8C modular jacks suitable for 100Base-T (Fast Ethernet) applications to support the high-speed performance requirements of Gigabit Ethernet applications, are now available from Keystone Electronics Corp.
Manufactured for increased durability, the new Keystone RJ45 sockets can endure a minimum of 500 insertion cycles. Rated for 125 VAC RMS, these jacks are fully compliant with IEEE and IEC standards. A variety of styles are available to accommodate design applications with numerous mounting and port size options.
Horizontal (Right-angle) PCB modular jacks are available in Thru-Hole or Surface Mount soldering configurations. For Low Profile applications, request Cat. No. 943. For Compact designs, Cat. No. 942 is recommended. Applications that require a deeper socket can be met by using Cat. No. 948. Designs for surface mount installation can utilize Cat. No. 944.
For devices where connectivity will be perpendicular-to-the-board, a Vertical (Top-entry) PCB modular jack, Cat. No 949 is offered. As part of this new series, Keystone is offering a Panel Mount modular jack, Cat. No 946 which is supplied in a 2-piece locking design to simplify and secure wiring of the jack.
Keystone Electronics Corp. is a major manufacturer of interconnect components and hardware and provides a full complement of stamping, machining and assembly services. An in-house application engineering group is on hand to aid in product modifications or customers special designs.
Keystone is an ISO-9001:20015certified company, RoHS compliant with headquarters in the US and offices in Canada, Europe, Australia and Asia.
For complete details and specifications contact Keystone Electronics Corp., 55 South Denton Ave, New Hyde Park, NY 11040; Tel: (800) 221-5510 or (516) 328-7500; Fax: (516) 328-1080; E-mail: kec@keyelco.com or their webiste www.keyelco.com