Narrow Profile, 2032 & 2025 Coin Cell Retainer
Featured Product from Keystone Electronics Corp.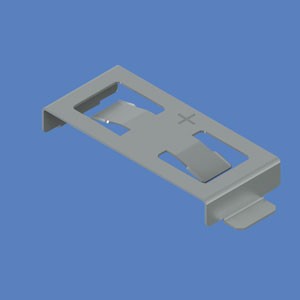 A new, much narrower width retainer for CR2032 & CR2025 coin cells is now available as part of the extensive battery connectivity line of products offered by Keystone Electronics
This new retainer features an extremely narrow profile and is designed for battery insertion and removal from both directions. The retainer is engineered with dual springs assuring low contact resistance and connectivity. The retainer is clearly-marked with polarity indication. This versatile design makes it ideal for high density PCB packaging particularly with single use RFID and price sensitive consumer applications.
Manufactured of Phosphor Bronze with a nickel plating for low contact resistance and high temperature soldering this new retainer was designed for the popular 2032 and 2025 cells. Solder tails are located outside of the retainer body to ease solder joint visual inspections.
For retainers packaged in bulk, request Catalog #3036. For retainers packaged in a 500 piece Tape-and Reel, specify Catalog #3036TR. The new retainer operates smoothly with vacuum and mechanical pick-and-place assembly systems. Retainers are compatible with lead free and traditional reflow processing.

A major manufacturer of interconnect components and electronic hardware, Keystone's capabilities include stamping, machining and assembly services. Application engineering assistance for product modifications and special designs are also available. ISO-9001:2015 certified and RoHS compliant, company headquarters are in the USA with offices in Canada, Europe, Australia and Asia.
For complete details and specifications contact Keystone Electronics Corp., 55 South Denton Ave, New Hyde Park, NY 11040; Tel: (800) 221-5510 or (516) 328-7500; Fax: (516) 328-1080; E-mail: kec@keyelco.com; website: www.keyelco.com