New Surface Mount Threaded Standoffs for PC Boards
Featured Product from Keystone Electronics Corp.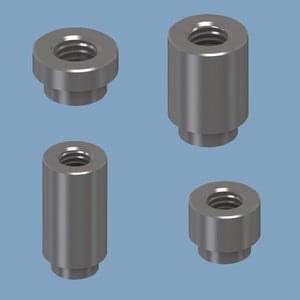 Keystone Electronics has introduced a new product line to its diverse selection of standoffs and spacers. These new threaded standoffs are specifically designed and packaged to be used on PC Boards in the same manner as other surface mount components.
As a surface mount product, these standoffs can be added to the board using the same SMT equipment used to populate the board, reducing scrap and handling time while minimizing damage to a PCB that may occur while using traditional mounting products used on PCB's. Manufactured from steel with a tin plate, these new standoffs assure easy reflow soldering for a reliable solder joint.
Threaded SMT standoffs are available in 2-56, 4-40 and 6-32 threads in lengths from 1/16" up to 3/8". These tape and reel packaged parts are supplied with Kapton tape on top surface for easy pickup, they are ideal for use with most vacuum and mechanical pick-and-place assembly systems.
Availability is from stock through Keystone's global distribution network. Online ordering is accommodated.
A major manufacturer of interconnect components and electronic hardware, Keystone's capabilities include stamping, machining and assembly services. Application engineering assistance for product modifications and special designs are also available. ISO-9001:2015 certified and RoHS compliant, company headquarters are in the USA with offices in Canada, Europe, Australia and Asia.
For complete details and specifications contact Keystone Electronics Corp., 55 South Denton Ave, New Hyde Park, NY 11040; Tel: (800) 221-5510 or (516) 328-7500; Fax: (516) 328-1080; E-mail: kec@keyelco.com or their webiste www.keyelco.com