Printed Circuit Board Card Guides
Featured Product from Keystone Electronics Corp.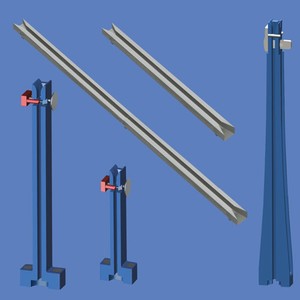 A new assortment of durable Nylon card guides used to mount circuit boards are among the latest circuit board mounting devices available from Keystone Electronics Corp.
Engineered to secure printed circuit boards (PCB's) in their desired locations, Keystone's Card Guides are available in either vertical or horizontal mounting configuration. Both style guides have a funnel entrance design that helps to guide the board into place. Horizontal card guides snap fit in place without any additional mounting hardware needed. Vertical style guides have locking pins for holding the PCB secure. Vertical card guides also use the same footprint allowing change of bracket height to be done without any need for redesign
A major manufacturer of interconnect components and electronic hardware, Keystone also maintains an application engineering group supported by expert stamping, machining and assembly functions.
Keystone is ISO-9001:2015 certified, RoHS compliant, with US headquarters and offices in Canada, Europe, Australia and Asia. For more information and literature, contact Keystone Electronics Corp., 55 South Denton Ave, New Hyde Park, NY 11040;
tel: (800) 221-5510; fax: (516) 328-7500; or view www.keyelco.com;
Email: kec@keyelco.com.