Rugged/Low Profile SMT Battery Holders
Featured Product from Keystone Electronics Corp.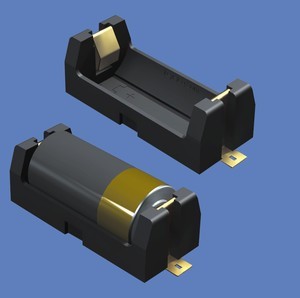 Lightweight and durable, these high strength battery holders incorporate heat resistant Nylon Housings and Gold-plated Phosphor Bronze contacts. These rugged holders are ideally suited for use with consumer and industrial electronic products. Designed for both lead free solder and traditional reflow process, these devices will accept all major Battery manufacturers' Lithium batteries.
Availability is in ½ AA Lithium batteries (Catalog #1016) and 2/3A Lithium batteries, (Catalog # 1018), AA batteries (Catalog #1024) and AAA batteries (Catalog #1020) for single cell applications, (Catalog #1022) for dual cell applications. Battery installation and removal does not require tools.
Keystone's broad line of battery hardware consists of SMT and THM products including, contacts, clips, holders, retainers and straps for coin and button cells batteries, as well as cylindrical batteries. The entire Keystone line consists of several thousand different interconnects, hardware and components. Product modifications and special designs are created by our application engineering group supported by expert stamping, machining and assembly operations.
Keystone is ISO-9001:2015 certified, RoHS compliant, with US headquarters and offices in Canada, Europe, Australia and Asia. For more information and literature, contact Keystone Electronics Corp., 55 South Denton Ave, New Hyde Park, NY 11040; tel: (800) 221-5510; fax: (516) 328-1080; or view www.keyelco.com;
Email: kec@keyelco.com.