Standard & Custom Industrial Handles and Pulls
Featured Product from Keystone Electronics Corp.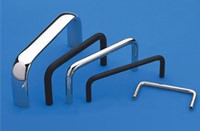 Keystone Electronics produces an assortment of Industrial handles in brass or aluminum, in round or oval shapes and are supplied in a variety of diameters, lengths, mounting centers, heights, platings and internal thread sizes.
Aluminum Handles are manufactured from Alloy 6061-T6 per QQ-A-325 and feature a Black Anodized finish as per MIL-A-8625. Brass Handles are manufactured per ASTM-B16 and feature a Nickel finish as per QQ-N-290. Mounting Screws, manufactured in Stainless Steel, are available in varying lengths and thread sizes. Keystone also produces an assortment of leather-like and metal carrying handles.
Ferrules, which are used for both decorative and strengthening purposes, also protect the surface areas of your panels from marring. They are available for Keystone's round instrumentation handles.
Keystone's standard product meets most customer requirements, modifications as well as custom fabrications can be manufactured to meet your special needs. Application engineering services are available to meet special customer requirements. For special requirements please contact Keystone by e-mail or please contact their Custom Manufacturing Division.
You can also use the Keystone part builder to easily select the characteristics you need and find the Keystone part that matches.
All are part of an extensive variety of Keystone's interconnect components and electronic hardware in standard and custom configurations. Product modifications, specials, stamping, machining and assembly facilities are also offered along with application engineering support.
Keystone Electronics Corp. is a major manufacturer of interconnect components and hardware and provides a full complement of stamping, machining and assembly services. An in-house application engineering group is on hand to aid customers needing product modifications or special designs.
Keystone is an ISO 9001:2015 certified company, RoHS compliant with headquarters in the US and offices in Canada, Europe, Australia and Asia.