Standoffs & Spacers - Threaded and Clear Hole
Featured Product from Keystone Electronics Corp.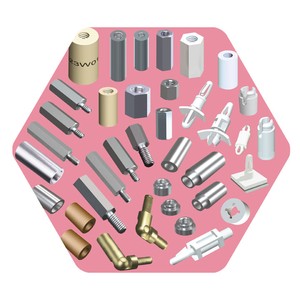 Keystone offers a comprehensive line of threaded standoffs & clear hole spacers in Metric and Standard sizes and materials for any industry
Keystone's standard Hex & Round Threaded Standoffs are available in Aluminum, Brass, Stainless Steel, Nylon and Phenolic materials.
Keystone's standard Clear Hole Spacers are available in Aluminum, Brass, Nylon and Phenolic materials
Aluminum Standoffs and Spacers feature a Clear Iridite finish per MIL-C-5541.
Brass Spacers feature a Zinc Plate with a Clear Chromate finish per ASTM-B633.
Brass Threaded Standoffs and Metric spacers feature a Nickel finish per QQ-N-290.
Corrosion resistant Stainless Steel Standoffs are per ASTM-A581/582, Class 303.
The insulated types include Nylon 6/6 Standoffs in natural color and Phenolic Standoffs manufactured from natural color PBE grade material.
RoHS Compliant.
Keystone also has a complete line of Nylon Insulated PCB spacers and supports for diverse applications and requirements. While their standard product meets most customer requirements, modifications as well as custom fabrications can be manufactured to meet your special needs. Application engineering services are available to meet special customer requirements.
Check out their Part Builder system which allows you to easily configure the Keystone standoff or spacer you require