Surface Mount Auto-In 20mm Coin Cell Holder
Featured Product from Keystone Electronics Corp.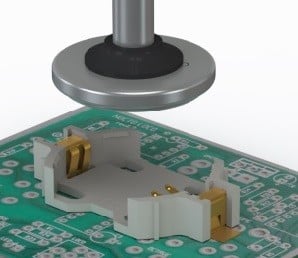 The call for automatic insertion of the popular 2032 and 2025 Lithium Coin Cells has been met by Keystone Electronics Corp. The company's latest holder is extremely rugged and ideal for retaining cells securely under shock and vibration in high-density applications for PCB requirements.
In applications where the battery must be automatically inserted via a vacuum or mechanical pick-and-place device, the new "Auto-In" coin cell battery holder Part#1058 (bulk) or #1058TR (on tape and reel for use with most vacuum and mechanical pick-and-place assemblies) is ideal.
This new holder provides design versatility for surface mount applications using the 2032 or 2025 coin cell batteries. Each holder is polarized and features dual–spring, Gold plated Phosphor bronze contacts in a glass filled LCP UL 94V-0 base. Holders are supplied in bulk or on tape and reel.
The company's full line of battery hardware also consists of SMT and THM products including contacts, clips, holders, retainers and straps in assorted materials for coin cells and batteries. In addition to a comprehensive line of interconnect hardware and components, Keystone provides application engineering services for product modification and special design requirements, supported by pro-active stamping, machining and assembly operations