491M-PM Auxiliary Permeation Oven Module (PM)
Product Announcement from Kin-Tek Laboratories Inc.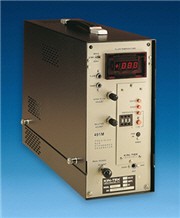 The 491M Auxiliary Module incorporates an additional permeation oven into the 491M series of modules. Oven capacity allows up to eight disposable permeation tubes or one refillable tube for creating complex mixtures of gas standards.
The core of the 491M Auxiliary Module is a single oven unit with NIST traceable digital temperature control from 25o C to 150o C in 0.1o C increments.
Component gas created in the oven combines with External Span Gas entering from the adjacent Base Module to form the Span Mixture Out.
Additional permeation tube ovens allow generation of a multi-component gas stream for cases in which (a) the tubes must be maintained at different temperatures, (b) differing permeation technologies (disposable tubes vs. refillable tubes) are required, (c) more components are needed than can be held in a single oven, or (d) for applications in which various components will be switched in and out of the gas stream.
Up to 5 PM oven modules can be added wherein each oven can hold up to eight disposable permeation tubes or one factory-refillable tube. Any combination of ovens can be kept on standby to keep various tubes at temperature while not adding their emission to the output gas stream.
---