FlexStream Secondary Dilution Module (SD)
Product Announcement from Kin-Tek Laboratories Inc.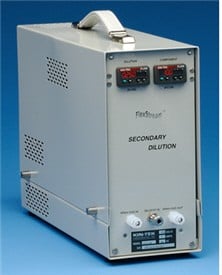 The SD module extends the range of concentration attained from permeation tubes by providing an additional stage of dilution of the gas stream. Very low concentrations - ppb or ppt - can be generated depending on the emission rate of the tubes and the flow rate range of the primary and secondary dilution mass flow controllers. Overall dilution ratios of 10,000:1 can be achieved.
The FlexStream™ SD Module is used in series with the FlexStream™ Base Module and any additional permeation modules to extend the range of concentrations attained from permeation tubes.
Using the full flow range of the standard Base and SD modules allows a concentration range of 10,000:1 from a single permeation tube. For applications requiring fixed flow of the output mixture, the SD can provide adjustable concentration over a200:1 range.
The SD is one of several auxiliary modules designed to work with the Base Module. Up to 5 auxiliary modules can be used with a single Base Module to form a complete gas standards generating system.
Operation
The FlexStream™ SD has two operating states: Standby and Span. In the Standby state, the secondary dilution flow controller is isolated and upstream span gas passes to the span out port. In the Span state, the primary concentration span mixture created by upstream permeation and/or direct blending modules flows through the SD where a carefully measured portion is split off and rediluted to form lower concentration mixtures.
Dilution ratios from 3.4:1 to 500:1 are available with the standard SD module. Operation of the SD is controlled through the microprocessor subsystem in the Base Module.
Features
Standard Flow Range: Sec Dil Flow: 0.25-5.0 lpm; Component Flow: 0.01-0.1 lpm
Optional Flow Range: Sec Dil Flow: 0.5-10.0lpm; Component Flow: 0.02-0.2 lpm
System dilution ratios: Standard: 10,000:1; Optional: 20,000:1, 40,000:1
Power Requirements: Standard: 115 VAC, 2A; Optional 230 VAC, 1A
Dimensions: 7.5" Width X 13.5" Height X 20" Depth; Weight: Approximately 25lbs
---