Span Pac™ Industrial Gas Standards Generators
Product Announcement from Kin-Tek Laboratories Inc.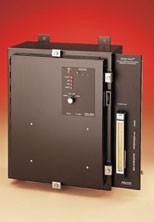 Span Pac™ Series I Industrial Gas Standards Generators are used in industrial, process and/or hazardous environments. These instruments use Trace Source™ permeation tubes to deliver calibration standards directly to your FTIR, GC, GC-MS, Ion Mobility Spectrometer or any type of gas analyzer or environmental chamber.
The Span Pac™ Series I Gas Standards Generator provides the temperature controlled environment and carrier gas control for Trace Source™ Disposable Permeation Tubes. These generators can also provide the refilling mechanism for gas filled Trace Source™ Refillable Permeation Tubes.
The Span Pac™ I is specifically designed for field mounting and can be operated from a remote station. Multiple permeation tube ovens can be housed in a single NEMA 4 cabinet. The instrument is also available with Z purge.
Benefits include:
Economical - replaces expensive, unreliable gas cylinder mixtures
Safe - limits possibility of exposure to hazardous materials
Reliable - continuous service; accuracy can be verified by user
Automated - can be operated by the analyzer or computerized process control system
Traceable accuracy - permeation tube output measured by weight loss
Rugged construction - NEMA 4 housing withstands industrial environment
Models available in one, two or three oven configurations:
Span Pac™ 61 I: Single oven unit
Span Pac™ 261 I: Two oven unit
Span Pac™ 361 I: Three oven unit
Span Pac™ 71 I: Single oven unit for 57 series permeation tubes
Span Pac™ 61/71 I: Two oven unit (one 61 oven and one 57 series oven)
Span Pac™ 271 I: Two oven unit for 57 series permeation tubes
Span Pac™ 261/71 I: Two 61 ovens and one 57 series oven
Specifications include:
Oven Capacity: Up to six 1/4 in. diameter x 6 in. long disposable permeation tubes, one LFH, one 57S, one 57H, or one ULED
Temperature Control: High mass oven, solid state, zero switching, on-off control. Set point values from 30 °C to 150 °C (value chosen to suit the application). Control sensitivity: +/- 0.03 °C
Flow Range: 0.5 to 5 L/Min. (2 to 20 L/Min. optional)
Output Pressure: 0 to 40 psig
Typical Concentration Range: 1,000 ppm to ppb
Dimensions: 20 in. x 20 in. x 9 1/4 in.
Electrical Classification: General purpose (Class I, Gr. D, Div. II option)
Weight: Approx. 60 lb
Typical applications include:
Process control
Custody transfer analysis
On-line quality assurance
On-line validation of CEMS
Stationary source monitors
Industrial hygiene monitoring
Sulfurs, solvents, acids standards
Standards in reactive matrixes
---