TO-14 Complex Mixture Generator
Product Announcement from Kin-Tek Laboratories Inc.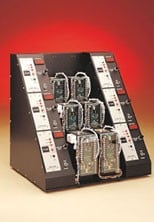 The TO-14™ Complex Mixture Generator (formerly "Span Lab™") is a Laboratory Gas Standards Generator that uses Trace Source™ Permeation Tubes to deliver calibration standards directly to your FTIR, GC, GC-MS, Ion Mobility Spectrometer or any type of gas analyzer or environmental chamber.
Gas Standards Generators provide the temperature controlled environment and carrier gas control for Trace Source™ Disposable Permeation Tubes. They can also provide the refilling mechanism for gas-filled Trace Source™ Refillable Permeation Tubes.
The TO-14 Complex Mixture Generator:
Is a modular systems with 6 to 30 permeation tube ovens
Has up to 240 compounds in wet or dry matrices
Generates mixture components (groups) individually selectable
Generates concentrations from over 1,000 ppm to low ppt
Has concentration rangeability up to 20,000:1
Has up to a 400:1 at constant output flow
Typical applications of the TO-14 Complex Mixture Generator include:
Effects testing
Contaminated atmosphere simulation
Catalyst efficiency testing in the petrochemical (or other) industry
Environmental studies
Ambient air quality studies
VOC's
Toxic air pollutants
Fill passivated, low pressure cannisters
Generate humidified standards
---