Technical and Consulting Services
Product Announcement from Kin-Tek Laboratories Inc.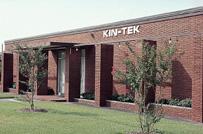 KIN-TEK products are serviced by KIN-TEK's Technical Services Department. Services include instrument recertification and calibration, permeation tube recertification, on-site instrument system installation, training, warranty service and repairs. KIN-TEK also provides a consulting service for helping you solve your instrument calibration problems.
Instrument Recertification and Calibration Service
Annual recertification and calibration of KIN-TEK instruments is recommended to maintain traceability to the National Institute of Standards and Technology. Each instrument is given a multi-point flow and temperature calibration to certified accuracy, as well as a multi-component maintenance check. Certificates are issued with an "as received" report depicting sources of system error. Our KIN-TEK technical representative can perform the calibration at our site or yours. Don't put it off any longer; call for a quote and return material authorization (RMA) number for your specific KIN-TEK model.

Permeation Tube Recertification Service
In many cases, purchasing a new refillable permeation tube may not be necessary if the certified emission rate has expired. KIN-TEK offers permeation tube recertification, refill, and refurbishing service for most liquid filled tubes. Contact a KIN-TEK Technical Representative to see if your existing permeation tube can be sent back to our laboratory. Our representative will be happy to send you a quote and issue a return RMA number.

On Site Installation
KIN-TEK now offers installation services on all instruments we manufacture. A representative will visit your site, offer assistance on instrument placement and install instrument components in relation to the nearby analyzer, detector or monitor. Ask to have installation added to your next instrument quote.

On Site Permeation Technology Training
Enhance employee technical skills by learning the permeation tube method of calibrating analyzers with a KIN-TEK gas standards generator. Training is structured to the parameters of your calibration system. Whether you have a single oven instrument, a moisture generator or a large eight-oven system, KIN-TEK will prepare your employees with the technical knowledge for routine multi-point calibrations. Employees will learn the different types of permeation devices, calculations relating to their system, how to produce complex mixtures, troubleshooting techniques, and much more. KIN-TEK provides training to any size group, and scheduling is flexible.

Calibration Consultation Service
Whether or not you purchase KIN-TEK Instrumentation, we can consult you on the best design scenario for analyzer calibration and required equipment. A representative will visit your site, identify application requirements, and consult you on the equipment needed to achieve accurate calibrations. Allow KIN-TEK to build confidence in your analyzer calibrations.

Warranty Service
All KIN-TEK instrumentation carry a one year limited warranty. If you are experiencing any problems with your instrument call 1-800-326-3627 for technical support and a representative will troubleshoot the problem and issue a return manufacturer authorization number for service, if needed.

Repairs
We realize parts can wear out over time or mishaps can happen. In the event that a repair may be necessary, contact a KIN-TEK Technical Representative for a return manufacturer authorization number and a cost assessment.
---