Trace Moisture Gas Standards Generators
Product Announcement from Kin-Tek Laboratories Inc.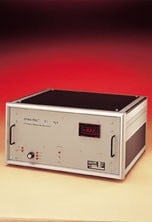 Trace concentration moisture is an extremely important parameter in gases used in a wide range of processes. But there is no absolute analytical method that can be used in all applications.
For most sensing methods, the response to moisture is affected by the background gas and most current methods are subject to "poisoning" by certain contaminants. Basically, all trace moisture sensing systems require calibration to external standards and they must be frequently challenged with standards to demonstrate continued accuracy.

The KIN-TEK Trace Moisture Gas Standards Generators provides an economical solution to moisture calibration problems.
Benefits include:
Accuracy - differential method eliminates error due to stray moisture contamination sources.
Traceability - concentration changes are traceable to NIST through physical standards. The error band is well defined.
Simplicity - Standards are created by mixing controlled gas flows.
Broad rangeability - Up to 1000:1 concentration change is possible with a single permeation tube.
Works with condensible gases - typical cyrogenic methods work only with fixed gases.
As listed below, several Trace Moisture Gas Standards Generator models are offered to insure an economical solution to every moisture calibration problem.

Span Pac™ 61-H2O and 261-H2O (Single & Dual Oven Models)
These single and dual-oven instruments are the basic H2O models. The 61-H2O single-oven model can produce concentrations over a 10:1 range and from over 1000 ppm down to 0.1 ppm in nitrogen and other inert background gases. The dual-oven 261-H2O model that can generate a concentration range of 100:1. An internal purge of dry gas is used to minimize contamination from atmospheric moisture in low concentration service.

Span Pac™ 61-W-H2O and 261-W-H2O (Welded Instruments)
The welded (W) single-oven instrument is used where the minimum concentration required is below 0.1 ppm (100 ppb). These systems are used for concentrations down to about 10 ppb in inert background gases. (The minimum concentration is actually set by the minimum practical permeation rate.) They feature all electropolished 361L seamless stainless steel tubing, orbitally-welded joints, VCR® connections at service access points and special components for high purity service.

Span Pac ™ 61-W-H2O-SD (Welded with Secondary Dilution)
The welded single-oven instrument with secondary dilution (SD) is our most versatile moisture system. This instrument provides an internal secondary dilution step that allows addition of extremely low concentrations, production of a very wide concentration range (up to 20,000:1), and the production of variable concentrations in a fixed total flow.

Reactive Gases Model (Span Pac ™ 61-R-H2O )
The reactive gases (R) model is used to produce moisture standards in reactive gases.

Industrial-grade Models (Span Pac 61-I-H20 and 261-I-H20)
Single and dual-oven industrial-grade (I) models are available in NEMA 4 cabinets for use in harsh, nonhazardous environments. These units contain all electropolished 316L seamless stainless steel tubing. Optional capabilities include X-purge for Class 1, Group C or D, Division I, or Z-purge for Class 1, Group C or D, Division II.
Typical Specifications (varies with the model) include:
Temperature control: Range 30 C to 120 C. Accuracy +/- 0.1 C
Oven capacity: 6 type HRT disposable permeation tubes up to 5 in. total length, or 1 LFH refillable peremation tube
Flow range: 0.25 to 5 L/Min. for primary dilution
Rangeability: up to 1000:1 from a single permeation tube
Ranges: less than 100 ppt to over 10 ppm
Output pressure: 0-40 psig
H2O concentration adjustable over 10:1 range with single oven; 100:1 with dual oven
High ppm to 0.1 ppm H2O range
Welded models (W series) can go down to about 10 ppb H2O
Industrial models have NEMA 4 cabinets and optional Z purge capability
Simple to operate
Typical applications include:
Calibrate sensitive (100 ppb) moisture monitors
Verify moisture sensors and probes
Calibrate on-line product quality control monitors
---