Learn how to design for MIM!
Service Detail from Kinetics Metal Injection Molding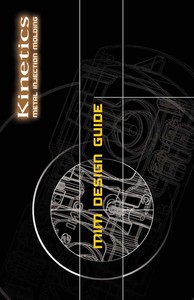 Download your free copy of Kinetics MIM Design Guide! Use this tool to help design your parts for our Metal Injection Molding (MIM) technology. Metal Injection Molding or MIM, also called Powder Injection Molding or PIM, is a net-shape process for producing solid metal parts that combines the design freedom of plastic injection molding with material properties near that of wrought metals. With its inherent design flexibility, MIM is capable of producing an almost limitless array of highly complex geometries in many different alloys ranging from stainless steels, alloy steels, and soft magnetic materials, controlled expansion materials (low CTE), and custom alloys. Design and economic limitations of traditional metalworking technologies, such as machining and casting, can be readily overcome by MIM.

Today, MIM is serving critical performance applications in a wide range of industries and products including, automotive, aerospace and defense, cellular telephones, dental instruments, electronic heat sinks and hermetic packages, electrical connector hardware, industrial tools, fiber optic connectors, fluid spray systems, hard disk drives, pharmaceutical devices, power hand-tools, surgical instruments, and sporting equipment.
---